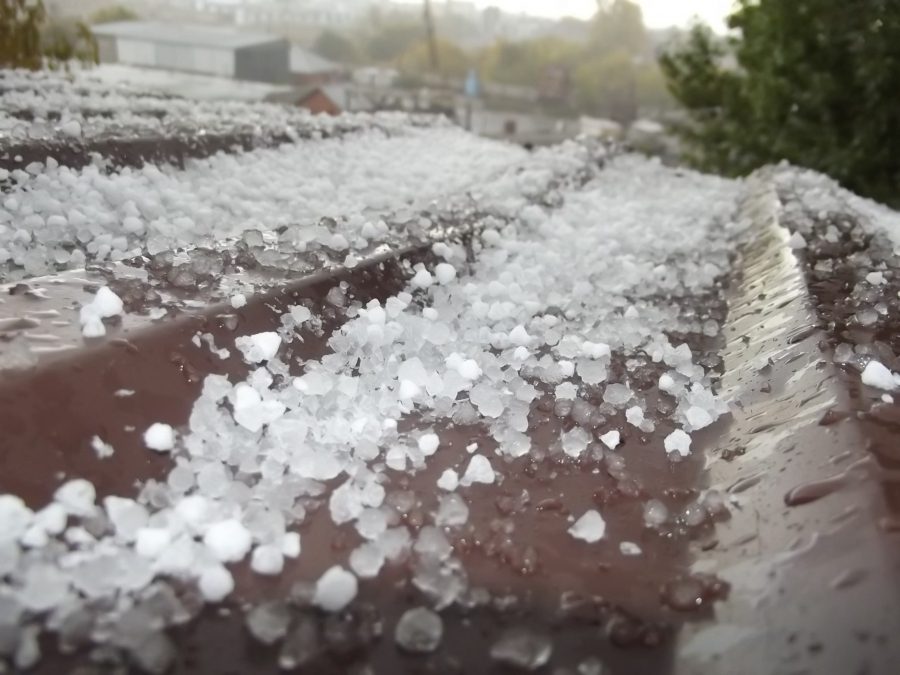 As the seasonal weather begins to heat up and cause more storms and severe weather, commercial roofs will start to show signs of damage and wear. More times than not, we find commercial building owners are surprised to find out they have had many underlying issues caused by weather and storm damage that could have been prevented. Here are a few of the types of commercial roof damage that can be caused by weather, and ways you can keep an eye out.
Look for Moldy Smells or Musty Odors that won't go away.
This can be a huge indicator that you have a leak and water has settled in a hidden area of your building. It may even be impossible for you to inspect the area between walls. Any moldy or musty smells that show up after a storm and don't go away easily are a cause for concern. We suggest giving us a call right away so we can fix the damage before it spreads and gets worse.
Moldy smells are just one symptom of a hidden leak, and if untreated, the problem can cause huge issues, including structural damage. The sooner this type of roof damage is fixed, the less impact it will have on your wallet.
Standing water on your flat roof should that is visible after 2 days is a red flag.
If the rain water is left standing after 2 days, it will begin to cause damage to your commercial flat roof and eventually lead to leaks and more internal damage. Even if you do not notice any leaking or unusual smells, if the water stands on your roof, it will deteriorate your roof at a much faster rate and lower your roof's life expectancy.
Commercial roof flashing located around the edge of your roof seals out all runoff and temporary standing water.
If your flashing or edge of your roof is damaged, peeled back, or loose, then rain water will find it's way under your roof and into your building. If you have debris or tree branches fall along side your building, it is a good idea to check the flashing and edges of your roof after a storm to ensure there are no damaged areas.
Once water has gotten under your roof and into your building, it can still be difficult to detect.
We suggest looking for moist walls, water stains along the ceiling, and unusual wet floor areas that cannot be attibuted to plumbing. It is difficult to trace exactly where the stains have come from without a professional consultation. If left unattended though, internal water damage will cause massive issues for your commercial building down the road.
Tingley Roofing services Commercial Buildings in the Midwest, USA. If you would like our expert customer service to give you a straight and honest consultation, please do not hesitate to call!
We provide commercial roofing service for:
And more!
Weather Related Roof Damage – We keep our weather tracker going so we can prepare to service specific needs after any storms or severe weather situations. We have the fastest weather related damage response time. You can get a weather damaged roofing quote today.
Hail Damage – Hail damage to your roof can be particularly deceiving. Unseen hail damage can lead to leaks in your roof. Look for any water spots or moisture around the edges of your ceilings. Typical hail damage to your roof is difficult to see without a professional inspection on top of your building. If you suspect hail damage to your roof after a storm, we can give you our expert consultation.
Wind Damage – Wind damage to your roof can occur in multiple ways. From tears, buckling, and penetrations, all the way to clogged or damaged vents. Tree branches and debris from the wind is a big culprit in many of the roof repairs we do as well. Tingley Roofing does a full service inspection of all aspects of your roof after a heavy storm or severe winds to ensure that your roof remains safe and intact.
Roof Leaks – The most noticeable damage to your roof comes from roof leaks. However, did you know many times your roof can leak internally and show no signs in your building? This type of leak damage can be one of the most expensive to repair, as it can slowly damage the structure of your building. We check all possible leak points to ensure this doesn't happen to you. If you suspect a possible leak or any damage or wear after a large storm, please contact us today for a free consultation.
Don't make the mistake of not using a professional commercial roofing company
In the era of Youtube, Google, and the most DIY business owners ever seen, many projects that would normally require paying an expensive professional are being done as a DIY project. While this can save loads of money on small projects, you may want to reconsider any DIY roofing projects on your commercial building. Here are just a few reasons why;
The Overall Experience:
When you DIY or hire a local handyman to do work on your commercial roof, you aren't getting the years of experience and training found with a professional company. That much is obvious. What may not be obvious, is that DIY and handyman roofing projects have one of the highest rates of failure in the commercial building upkeep scene. Roofing related lawsuits are increasing year by year as a result! We have personally been contracted to fix many "handyman specials" on commercial buildings, and we want to prevent that type of scenerio.
Ongoing Maintenance: 
When you use a professional roofing company, you get more then a job well done. You get the commitment and long term service that a handy man cannot provide, and that DIY projects aim to avoid. Roofing problems can quickly spiral out of control if constant "band-aid" solutions are used. Professional roofers have the commitment to take on those ongoing problems and plan for the future…not just quick fixes.
Downtime & Cleanup:
Another major difference between DIY and Professional Roofers, is the downtime. Commercial buildings are typically used for commercial purposes. Lost time means lost money, and using a qualified roofing company will often save you money just on downtime alone!
Similarly, the cleanup process and quality of cleanup are very apparent. Often when we arrive to fix a DIY project, the cleanup was only half completed. Certified roofing companies take extra care to leave the commercial property in a pristine condition. To be blunt; many DIY roofing projects end in nails, metal, tar, and asphalt blowing around and damaging vehicles for months, while professional roofers are on the line to avoid these problems.
Overall, considering saving money by using a DIY roofer vs a Professional roofer can include a load of hidden costs, problems, and frustration. If you are still considering a DIY project, we would love to give you a second opinion and estimate so you know what pitfalls to look out for no matter if you choose DIY or Professional. Get an quick estimate here: https://tingleyroofing.com/contact/
All you need to know about commercial and residential roofs
Benefits of White vs Dark Color Commercial Roofs
References:
Nicole Gale,

National Coatings 
https://www.nationalcoatings.com/blog/cool-roof-coatings-versus-black-roofs-%E2%80%93-whats-the-big-deal
      (2) Julie Chao, White, Green or Black Roofs? Berkeley Lab Report Compares Economic Payoffs 
https://newscenter.lbl.gov/2014/01/21/white-green-or-black-roofs-berkeley-lab-report-compares-economic-payoffs/
What are the benefits of having a white roof compared to a black roof?  When owning a building with a white roof, owners save money and energy. 
During the hot summer months, black roofs absorb a lot of heat! Due to this, buildings with black roofs have to crank up the air conditioning to keep up with the rising temperatures. However, white roofs don't absorb as much heat compared to the black roof. White roofs are an example of "Cool Roofs". Cool roofs are roofs composed of heat-reflecting materials. Ultimately, white roofs save the building owner money when it comes to air conditioning. 
Save money! White roofs are more cost efficient. White roofs last longer than darker roofs. While black roofs absorb heat, white roofs reflect the majority of heat! Due to this contrast in surface temperatures, white roofs prove to last a lot longer than darker roofs and also reduce maintenance costs! 
How Hail Damage Effects Residential Roofs
References:
When weather takes a turn for the worst many of us fear possible damage, especially with hail. How does hail effect roofs? It is important to have your roof inspected after a bad hail storm. Hail can cause leaks, cracks and deterioration to your shingles. Depending on the shingles, damage will appear differently for most roofs and a lot of times can go unnoticed. There are also many factors that determine shingle damage such as:
Temperature: When shingles get cold, typically below 50 degrees F, they aren't able to absorb much impact. Which inevitably causes more damage. 

Material: Damage can be hard to see depending on the roof's material. Wooden shingles with hail damage can usually be seen with dents and orange splits in the shingle. Asphalt shingles with hail damage are soft to the touch and may appear shiny. Hail damage on metal roofs are the easiest to spot. 

Hail size: Hail size can vary, typically roof damage doesn't occur until around 1 inch in diameter or above. For size reference, hail sizing larger than a dime or a quarter can cause serious damage to a roof.

Impact: The amount of damage depends on the angle and area of impact. The edges of shingles are the most exposed due to the lack of support from other shingles, therefore edges are vulnerable. 

When hail hits shingles with a "glancing blow" the impact causes less damage. 
However, there are many other types of damage that is mistaken for hail damage, such as blisters. There are some signs of hail damage that can help determine if hail is the real culprit. Loose and dented gutters are usually the easiest to spot, but sometimes gutters only get small impact. Also look for damage on the siding of the home. Sometimes homeowners will see "hail splatter" which is evidence of hail. 
If you suspect that your roof has hail damage, you should call a professional for a roof inspection. 
 How Wind Damage Effects Residential Roofs
High winds can result in a lot of damage to your roof including roof penetration and leaks. When high winds go through your area make sure to check for the following damage. 
Trees can help protect your home from weather as well as damage it. When high winds come through your area, limbs or even full trees can damage your roof. Trees or any other debris can be more damaging than the weather itself. Frequently check for dead or loose limbs to prevent damage when high winds come through. Trim your trees. 
Shingles are made to withstand pretty high speed winds, but can usually start taking damage around 50mph. Depending on the wind speed that your shingles can withstand, it is important that shingles are checked after high winds. High winds can take off shingle edges and cause leaks which will add further damage to your home. High winds can also pull shingles up high enough to loosen nails or rip them off entirely. When one shingle is ripped from your roof damage is inevitable! These lifted shingles are not always visible. If you suspect any shingle damage call a professional for an inspection. 
Signs of roof damage:
Roof penetrations

Damaged, missing, or curling shingles

Loose, bent, leaking, or sagging gutters

Damaged chimney bricks, missing flashing 

Leaks in attic 
Common commercial roof failures
References: http://www.americanweatherstar.com/5-common-commercial-industrial-roof-problems/
Commercial roofing tends to a harder installation compared to residential roofing. Commercial roofs are much larger and either have a low slope or are flat. Flat roofs require more care and repairs. 
Commercial roofs that are installed to wrong specifications. Construction workers have to build around many obstacles which leave a lot of room for errors. Improper installation can bring any roof down. 
Due to the constant need for upkeep, commercial roofs are prone to further damage with construction work as well as foot traffic. 
 Common residential roof failures.
Starting off with a bad installation is bound to bring a heap of problems. Therefore, your roof will not live out its full life expectancy and will just take more money from your pockets!
Damage can be brought on by minor weather, but typically high winds and hail storms have it out for roofs. Penetration caused by hail or wind damage can cause leaks and increase the radius of damage.
Many roof designs require more attention than others! A lot of problems with residential roofing starts with homeowners not knowing the care needed for their specific roof design.
Our Team has Over 25 Years of Experience
Our team has a wealth of talent and experience in the roofing industry. Residential and Commercial roofing are our specialty!